Dal blog di
Antonio Genna
ecco in anteprima la programmazione delle
serie tv
per il mese di
ottobre 2008
sui canali
Premium Gallery
Nel prime-time, debutta:
Pushing Daisies
, la serie
Warner Bros
che ha sorpreso gli
USA
arriva per la prima volta in Italia su
Joi
nell'offerta
Premium Gallery
del digitale terrestre
Mediaset
dall'
8 ottobre,
in prima serata. Il titolo e' un gioco di parole che in inglese significa "
essere morti
". Un mix di romanticismo, fantasia e mistero senza precedenti…che ha inchiodato agli schermi USA quasi 13 milioni di telespettatori e ha trovato la critica positivamente unanime!!
"
Pushing Daisies
"
racconta la storia di Ned (
Lee Pace
,
The Good Shepherd,
Soldier's Girl
), un giovane pasticcere che da piccolo scopre di avere un dono incredibile: puo' resuscitare i defunti, semplicemente toccandoli. Ma se li sfiora per due volte li uccide per sempre.
Realizza anche che per ogni morto che resuscita, uno sconosciuto perde la vita. Ned nasconde i suoi poteri per anni, ma l'investigatore privato
Emerson Cod
(
Chi McBride, Boston Public, The Nine
) scopre il segreto e lo convince a riportare in vita le vittime di omicidio e ad aiutarlo a risolvere i casi più difficili, in cambio di lauti guadagni.
La storia si complica quando
Charlotte
"
Chuck
"
Charles
(
Anna Friel, Goal-il film, Timeline: ai confini del tempo
), l'amore d'infanzia di Ned, viene uccisa. Il giovane decide di resuscitarla definitivamente, i due diventeranno inseparabili ma da quel momento non potranno mai toccarsi…
E inoltre, proseguono:
Gli episodi della quarta stagione di

Dr. House

, dal primo al sedicesimo, trasmessi tutto d'un fiato

fino all'8 ottobre

, ogni mercoledi' in prima serata, per lasciare poi il testimone all'attesissima

"Pushing Daisies"

.
Law & Order: Special Victims Unit (dal

9 settembre

al

25 novembre

, ogni martedi' in prima serata).

Serie poliziesca

che focalizza l'attenzione sui crimini a sfondo sessuale che avvengono nel dipartimento di polizia di New York. Fino al 25 novembre

Joi

trasmette l'ottava stagione, poi di seguito e in prima tv arrivera' la nona.

The Nine

(dal 25 settembre, ogni giovedi' in prima serata). Nove persone affrontano una situazione inattesa quando rimangono bloccate alla Fidelity Republic Bank dopo una rapina non andata a buon fine, e si ritrovano ad essere ostaggi dei ladri per 52 interminabili ore, durante le quali più di una persona morira'. Nel trambusto della rapina si trovano il detective

Nick Cavanaugh

(

Tim Daly

), il paziente impiegato della banca

Malcolm Jones

(

Chi McBride

), l'assistente procuratore distrettuale

Kathryn Hale

(

Kim Raver

), il chirurgo

Jeremy Kates

(

Scott Wolf

), l'operatrice sociale e fidanzata di

Jeremy Lizzie Miller

(

Jessica Collins

), il quasi suicida

Egan Foote

(

John Billingsley

), la madre single ed innamorata di Nick

Eva Rios

(

Lourdes Benedicto

), la sorella minore di Eva

Franny

(

Camille Guaty

) e la figlia di Malcolm

Felicia Jones

(

Dana Davis

). Ciascun episodio comincia con un flashback che rivela altri 10 minuti della vicenda degli ostaggi, per scoprire perche' ed in che modo i nove sconosciuti sono ancora legati tra loro.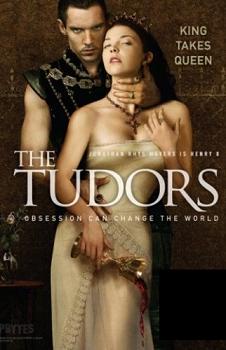 Dall'
11 ottobr
e alle ore 21.00 fino all'8 novembre va in onda la seconda serie del drama storico
The Tudors
che nella prima serie ha avuto grandi consensi sia in termini di ascolti che di critica.
Continuano le vicende di uno dei personaggi più conosciuti e controversi della storia inglese,
Enrico VIII -Re d'Inghilterra
e d'Irlanda dal 1509 fino alla morte - interpretato da
Jonathan Rhys Meyers
.
La seconda serie, gia' trasmessa a primavera negli Stati Uniti ha confermato un altro successo e la
Showtime
ha annunciato che ci sara' una terza stagione (COLUMBIA).
La produzione e' partita a meta' giugno 2008 per una messa in onda nel 2009;
Jonathan Rhys Meyers
ha gia' confermato la sua presenza nel cast.
Ancora da definire il numero degli episodi di questa terza tranche, il cui arco narrativo seguira' il matrimonio di
Enrico VIII
con
Jane Seymour
e con
Anne of Cleves
. Il management di Showtime ha inoltre dichiarato di voler completare la saga di tutte e sei le mogli di
Enrico VIII
.
Inoltre:
Continuano gli episodi della quinta stagione di

Nip/Tuck

ogni giovedi' alle 22.00 fino al

4 ottobre

.
Continua anche la serie in 1a TV

The Starter Wife

fino al

9 ottobre

(in onda dal 4 settembre tutti i giovedi' alle ore 21.00). La miniserie racconta la vita di

Molly Kagan

(

Debra Messing

) e' devastata il giorno in cui il marito, un produttore hollywoodiano, decide di divorziare da lei. Dallo status di "moglie di", passa a quello di "ex-moglie", una cosa particolarmente importante in questo mondo in cui contano solamente questi aspetti.
Mentre tutte le porte si chiudono nei suoi confronti, una delle sue amiche le rida' speranza e fiducia. Dopo la fine della serie culto

Will & Grace

,

Debra Messing

fa il suo grande ritorno in tv con questa mini-serie in 6 parti studiata sulla storia della vita di

Gigi Levangie

, l'ex-moglie del produttore hollywoodiano

Brian Grazer

.
Continuano anche, alle ore 21.50, fino all'

11 dicembre

gli episodi del teen drama

One Tree Hill 4

, che racconta la vita dei

fratelli Lucas

(

Chad Michael Murray

) e

Nathan

(

James Lafferty

).
Continuano fino al

29 dicembre

le due serie tv a sfondo legale, create dallo stesso ideatore e ambientate nella stessa citta' Boston:

Boston Legal 3

(in onda dall'

8 settembre

ore 21.00) e

Ally McBeal

prima stagione (dall'

8 settembre

ore 21.50 doppio episodio). La prima legal drama tratta le avventure professionali e umane degli agguerriti avvocati del prestigioso studio legale di Boston. Il telefilm, ideato da David E. Kelley, e' lo spin-off della longeva serie legale

"The Practice - Professione avvocati"

, negli ultimi episodi della quale era apparso l'attore James Spader nello stesso ruolo di Alan Shore. Il titolo inizialmente previsto per "Boston Legal" era

"The Practice: Fleet Street"

.
Anche la popolare serie televisiva statunitense

Ally McBeal

e' creata da

David E. Kelley

. La serie narra di una giovane avvocatessa in carriera,

Ally McBeal

(interpretata da

Calista Flockhart

), che opera nello studio legale di

Cage & Fish

di Boston: all'interno di questo contesto, parallelamente alla sua attivita' in tribunale, si sviluppano intrecci amorosi e rivalita', che interesseranno la vita di

Ally

.
HAMBURG DOCKLAND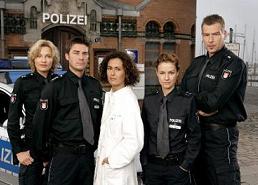 A partire da venerdi'
3 ottobre
tutti i giorni dal lunedi' al venerdi' alle 20:15.
Il pragmatico e alla mano ispettore capo del
Precinct 21
nel distretto del porto di Amburgo,
Nils Meermann
(
Thomas Scharff
), e la sua fidanzata, la
Dr.ssa Anna
Jacobi
(
Marie-Lou Sellem
) medico del pronto soccorso, sono spesso coinvolti negli stessi casi, ma da differenti punti di vista: mentre
Nils
e i suoi colleghi perseguono la giustizia,
Anna
si occupa di dare assistenza sanitaria a tutti e non importa se si tratta di una vittima o di un criminale. I conflitti tra i due protagonisti sono inevitabili in questo innovativo mix di poliziesco e medical drama.
Nuova serie del 2007 Prima stagione con 22 episodi con una seconda di 25.
SENZA TRACCIA -

Continua ogni domenica con un doppio episodio alle 21.00 (da domenica 19 ottobre parte la IV stagione).

WEST WING -

Tutti gli uomini del Presidente continua dal lunedi' al venerdi' alle 17:40 (da lunedi' 20 parte la IV stagione).

SPECIAL UNIT II

-

continua con la seconda stagione con un doppio episodio alle 18:30, dal lunedi' al venerdi'.
Da non perdere gli appuntamenti con
Sci Fi
, in onda solo su
Steel
tutti i giorni a partire dalla mezzanotte e il venerdi' e sabato in prima serata.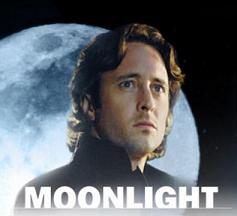 MOONLIGHT :
In prima assoluta per l'Italia dal 31 ottobre ogni venerdi' con un doppio episodio.
Mick St. John
(
Alex O'Loughlin
, nel cast di "
The Shield
") e' un affascinante ed immortale investigatore privato di Los Angeles con un segreto: e' un vampiro.
Usa le sue particolari doti per aiutare gli altri.
Beth Turner
(
Sophia Myles
) e' una bellissima, e ambiziosa reporter investigativa.
Mick
e
Beth
hanno un passato tragico in comune di cui solo il vampiro ha memoria….
Tra i due nasce subito un grande feeling che costringe
Mick
a tenere nascosta la sua vera natura. Ideato da
Ron Koslow
e
Trevor Munson
ne sono stati prodotti 16 episodi con un pilota totalmente diverso da quello poi mandato in onda. Nuova serie del 2007 con 16 episodi.
Inoltre:
BIONIC WOMAN

-

Continua ogni Venerdi', con un doppio episodio alle 21:00. Season finale venerdi'

17 ottobre

4400

-

Continua la prima stagione ogni sabato con un doppio episodio alle 21:00. (Da sabato

18 ottobre

parte la seconda stagione)

THUNDERBIRDS -

Continua la prima stagione ogni lunedi', martedi' e mercoledi' all' 1:15. (da mercoledi' 29 ottobre parte la seconda ed ultima stagione)
BUFFY L'AMMAZZAVAMPIRI - Continua ogni sabato e domenica con un doppio episodio alle 22.30 (da

sabato 18 ottobre

parte la IV stagione).

STAR TREK: SERIE CLASSICA RIMASTERIZZATA

-

Continua ogni sabato con un doppio appuntamento alle 00:45 (da sabato 25 ottobre parte la seconda stagione).